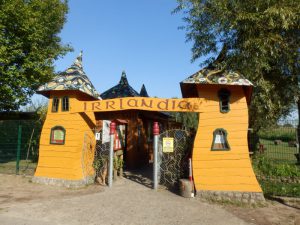 Got lost already?
Quite the opposite: In our family park with a "close-touch-to-nature" theme you're just right, if you want to spend an exciting day with your children, grandchilden or friends.
IRRLANDIA – der MitMachPark is currently on winter hiatus and will open daily for the new season from  May 13 until October 3 2023 to  invite you once again to explore, romp around, play, climb, slide, swing, puzzle, build, craft, splash and throw – participate in the fun! The park is closed on Mondays in September.
The biggest attraction in IRRLANDIA is Brandenburg's prettiest Slide-Paradies. It consists of three climbable wooden towers and 5 metal slides. The highest is a free-fall slide of 12m. The Slide Paradies was build with the help of special EU and Brandenburg funding – namely (ILE) und LEADER.
On hot days our waterspraypark is waiting for you to play around and cool down in it.
New in 2019 is the elevated Robin Hood Labyrinth – an impressive setup which is up to eleven meters high and is made out of 17 oak trunks, nine rope suspension bridges, four net-tunnels, twelf little house in differents heights. Two Cork-Screw slides and an automaic zipline slide complete the set up.
This projects was made possible with funds from Brandenburg's "LEADER" and from the EU ELER Program.
Attention!
There will not be a corn maze from 2023 on onward since Irrlandia is bursting at its seams. After almost 20 years it is time for something new. A Thuja hedge labyrinth is in the works, it is not sure if it will be open this season already.
We are really proud of this! For the forth time were voted most popular attraction by the users of the Familienpass Brandenburg for 2017.
This was honored with a certificate from the minister for family affairs – Diana Golze – and TMB CEO Dieter Hütte.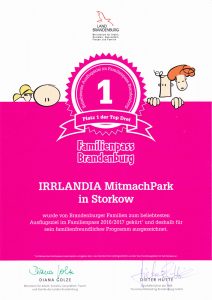 …and we were voted most popular attraction for the 5th and 6th time in 2018 and 2019!