---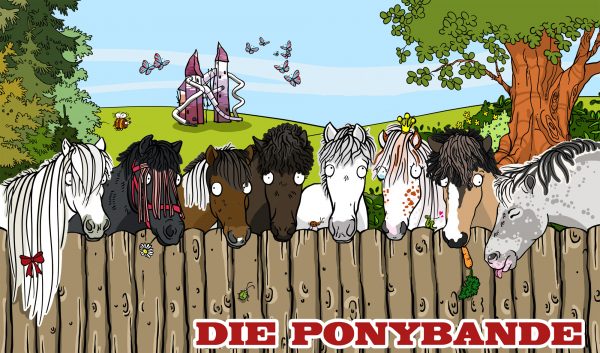 ---
Dear Pony-Friends,
our ponies Ronja Räubertochter, Lieschen Müller, Yesse, Miss Möhrchen and Larissa are pawing the ground in anticipation to see their little fans again from May 18th onwards.
Here you can view and explore the world on the back of a pony.
Ponyrides inside the park on the trail around the corn maze are being offered on weekends from 10am to 5pm – they are also available on weekdays during the holidays.
Our ponies do have some time off over lunch time and whenever they require it during the day.
Outside the holidays please contact us for weekday rides by telephone beforehand 015118305073.
This offer is not included in the ticket price to the park!
1 ride around the corn maze starting at 5,-€ ( at walk, pony being lead by mom, dad, grandpa or grandma.)
Responsible for this attraction:
Angela Schmidt, www.die-ponybande.de, 15859 Storkow, Parkstrasse 5, Tel: 015118305073
---
---
Dear guests,
Horses are flight-animals and we don't want to risk any accidents, therefor please stick to the following rules for your kids' and the ponies' safety:
Riding or even just sitting on the pony is only allowed when wearing a riding helmet (those are available in different sizes)
No free-riding! Do NOT feed the ponies!
Kein Freireiten! Bitte nicht Füttern!
Please wear shoes around the ponies. Even a small pony stepping on your bare toes will hurt.
Please stick to the given weight- and speedlimits for the ponies. A couple of our ponies suffer from chronic laminits and are therefor not allowed to carry too much weight. They love and need the excercise but in moderate levels.
Ponies are being picked based on age, experience and weight of the children. Please do not change ponies without asking.
The ponies are wearing muzzles. No, those aren't pretty but necessary in order to keep the ponies healthy. Too much food or the wrong treats can make them very sick. Just like a diabetic our laminitic ponies are on a strict diet. Therefor please only feed them as instructed by us.